2023 Natty Preview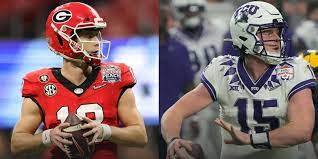 Georgia and TCU are set to face off in the 2023 National Championship for College Football. What a way to kickoff 2023! Both teams come into this matchup playing their opponents very close in previous games. 
Georgia coming in 14-0 with their latest win against a good Ohio State team. This game was close the whole game and even came down to a field goal. Ohio State looked like they were pulling away with a 38-24 lead going into the third quarter until a huge fourth quarter from the Bulldogs with a total 18 points compared to just 3 for the Buckeyes. It ultimately came down to a field goal in which Noah Ruggles for Ohio State missed. Georgia stormed the field and is looking for back to back national championships.
For TCU, they come in with a 13-1 record and a great win over Michigan. This game was a hard fought battle but TCU ultimately just played better. TCU looked like they were pulling away with the game but Michigan would not back down and would score right back. This game was a one score game with a few minutes left but Michigan ultimately fell short and TCU would continue their Cinderella story. 
Georgia and TCU can be a very close game although Georgia is favored by two scores. That TCU offense versus that Bulldog defense will be a sight to see.