A Ram's Masquerade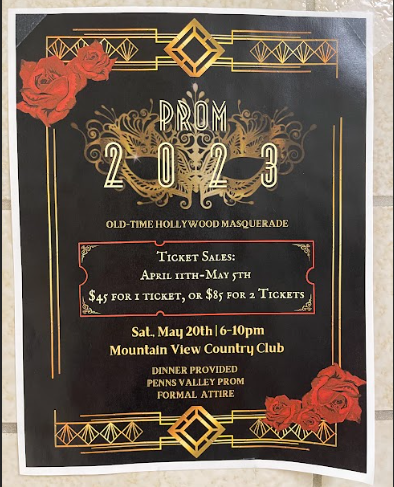 All posted along the walls of Penns Valley High School are posters advertising prom of 2023. This year's theme is a classic, old-time Hollywood masquerade! The event is being held on Saturday May 20th from six to ten pm at the Mountain View Country Club in Boalsburg, Pennsylvania. Dinner will be provided to guests and formal attire is required.
As students become more aware of the approaching date, there is a lot to do. Students in grades eleven and twelve are flustered to get their dresses and tuxes, arrange their dates, make plans for getting ready, and so on! Above all else, the most important thing for these students to accomplish is surely remembering to purchase the tickets! Tickets are on sale from April 11th to May 5th and can be purchased in the cafeteria during lunches or during RAM time in Mr. Baldwin's room, 208. The tickets are one for $45 or two for $85, a steep price but worth every penny for the experience and memories the night will bring!
Penns Valley Juniors are eager for their first promenade while seniors are excited but also flustered because this is one of the last memories that they will get to make whilst still in high school. Although it is a hard concept to wrap their minds around, they are surely not letting it get in the way of the fun that this special night is going to offer. Senior, Skylar Fleshman says, "I'm super excited to dance all night with my friends and have a great time!" It seems as though it is truly going to be an enjoyable event it!
While some students are over the moon to move and groove at prom, others are happy that their senior year is finally coming to a close and that they can move on to bigger and better things. When asked about his feelings for the quickly approaching event, Aiden Claar says, "I feel indifferent…I'm not peeing my pants over it." Leah Meyer adds, "I'm excited that it is my last prom." Even though some students aren't over the moon for prom, I think everyone agrees it is a great way to come together and spend some quality time with the classmates they'll be graduating with just two weeks later.
Prom has been a common tradition since the early 1800s and the American high school is not where the event originated. They used to be held in colleges as a way for families to show wealth and the manners of their young men. Eventually, women got introduced to the event and the night flourished into something that students across the country can enjoy as a last hoorah before they all graduate!
If you want to share your memories (photos) of the night with us for Penns Valley yearbook, please click here!