Graph Gear Jamboree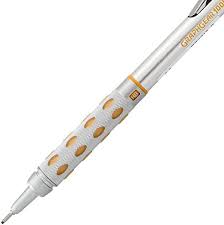 All across the nation a tragedy is striking, that is the tragedy of pencils constantly breaking and lead snapping. This happens to almost everyone except the lucky recipients of the beloved Graph Gear 1000. It is an amazing pencil made by Pentel that sells for around $10. The pencil has a plethora of functions including, a grip, a hidden eraser, and a dial to show what thickness of lead that is in the pencil.
I interviewed a connoisseur of this pencil, Adrian Gover, he had this to say, "The graph gear 1000 is the pinnacle of mechanical pencil design, honestly, I don't see that there is a need for any other pencil if you have the graph gear 1000, if you don't have it what is wrong with you? It is perfectly engineered, it is not simple, but it is not over engineered, it has a perfect weight that feels perfect in your hand. The pencil is jam packed full of features, there is a literal learning curve in using it, I didn't know there was an eraser but when I did I nearly fainted. I believe it is a staple in society and everyone needs one.
This pencil is made in a variety of ways, each having their own unique parts, for example, each pencil has a different kind of lead thickness. There is .3mm, .5mm, .7mm, and .9mm. Overall, the pencil is a work of art that cannot be replicated or bested by any company. Go get yourself a pencil and treat yourself to an amazing time writing.