Penn State Womens Volleyball takes on Pitt
This past Friday, September 20th, the Number 4 seed Penn State Women's Volleyball Team took on the Number 6 seed, Pitt, and the game sadly in another loss for the PSU Nittany Lions
When Penn State last played Pitt in 2017, the Lions came out victorious in a win of four sets in the NCAA tournament.
The results this year however, were very different. The Lions loss was a result of a loss in three straight sets. The scores were as follows, (25-17, 25-21, and 25-23).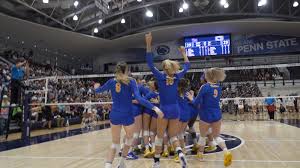 This loss by Pitt marks the first time, since the year 1986, that the Lions have lost in three sets to a non conference opponent.
The loss was a result of many mistakes made by the Lions, but Pitt was also able to reveal the strengths and confidence that they had going into the game. During the course of the game, Pitt was able to take many leads and runs against the Lions, while also being able to side out almost immediately when being served to, resulting in a loss of points for the Lions.
Throughout the game, Penn State also had a negative hitting percentage, which is not helpful when looking for a win. Specifically in the middle, which Penn State sets and uses often for kills, the hitting percentage was in the negatives.
The Lions were also not playing as a team, which when playing a team sport, is a key thing to have. When sport's teams often focus on what team they are playing and how good the other team is, this often results in a loss for the team who was hoping to win, which is exactly what happened to the Lions when playing the Pitt Panthers. Their loss of confidence due to their loss to Stanford in the previous weekend, also contributed to their loss.
The Lions took on the Number one seed Stanford in the previous weekend, which also resulted in a loss for the Lions in four sets with final scores of 27-29, 25-23, 25-23, and 25-21.
The Lions now have a record of 6-2, and their next home game is against Michigan State at Rec Hall in State College on September 25th, at 8:00 PM.