There's No Place like Penns Valley Homecoming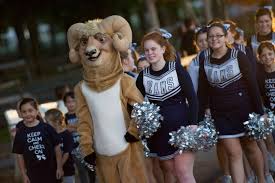 Penns Valley's annual Homecoming week is a great way to show your school spirit. Even though the football game isn't until Friday night, the whole school shows their pride throughout the entire week. Dressing up and participating in spirit week each day, not only shows our support for the football team, but also shows other schools how much PV means to us.
Spirit week includes lots of activities besides just dressing up for different themes. There is a Mystery Ram, Homecoming Court, Homecoming Parade, and Pep Rally, all leading up to Friday night's game against the Midwest Mustangs.
The Mystery Ram is a selected teacher that disguises themselves in the Rambo mascot costume. The whole school is given a new clue each day about who it may be and on Friday at the Pep Rally, the teacher's identity will be revealed.
The Homecoming Court consists of eight senior girls who are nominated by their classmates. They participate in spirit week, the homecoming parade, and get to play fun games with their escort at the pep rally.
At the homecoming parade, each fall activity or club gets the chance to make a float to drive through the parade and give out candy at the Grange Fair Grounds in Centre Hall. The float has to be decorated based on the Homecoming theme, the theme this year is "There's No Place Like Home… Coming." The floats will be judged and ranked for first, second, and third place.
The football game this year is a big game, against the Midwest Mustangs. Stephen Ripka, the team's wide receiver, says, "The Rams are striving for a crisp 'W' this weekend, and we're all super pumped for the community to come out and watch."
Homecoming week is a great way to bring the Penns Valley School District together in an exciting way, and this year should be one of the best ones yet!