80+ Students injured during Indonesia protest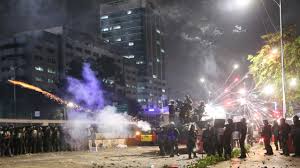 More than 80 University students in Indonesia's capital were being treated at the hospital Wednesday. One day after clashing with police during the protest sparked by a new law that critics say "cripples the country's anti-corruption agency." 
Officials at the hospital claim to have treated around 88 students with injured broken bones, head wounds, and respiratory problems due to gases. The protest outside Parliament (on Tuesday), saw police fire tear gas and water cannons to disperse thousands of rock-throwing University students; the protest was over just before midnight. On Wednesday morning city officers were cleaning up the streets from rocks, plastic bottles, banners, and other object left over from the protest.
Students held similar protests around the country on Tuesday, including Bandung, Yogyakarta, Malang, Palembang, and Medan. Critics say that the law passed in Parliament last week reduces the authority of the Corruption Eradication Commission. The fallout from the new law, which underlines Indonesia's challenge in changing its image. This has threatened the credibility of President Joko Widodo, who recently won a second term after campaigning for clean governance.
Hundreds of officials from different branches of government have been arrested since the independent anti-graft commission was established in 2002. The new protests are led by University students, who historically have been a driving force of political change.
Widodo met up Tuesday with lawmakers, whose terms finish at the end of this month, to confine them to delay votes on the bills after considering the concerns of the public. Lawmakers then delayed their votes on the proposed laws in their last session. Critics say the criminal code bill contains articles that violate the rights of women, lesbians, gays, bisexual and transgender people, as well as freedoms of speech and association.
The protests have sparked a very important decision that should be made. This article proves that students have a voice in our communities and they are heard. The students hope their governments will listen to them, and also help in the recovery of the students who were injured during the protest.
-Information provided by the WTAJ news website