PV Volleyball Hosts "Volley for Hope" Awareness Night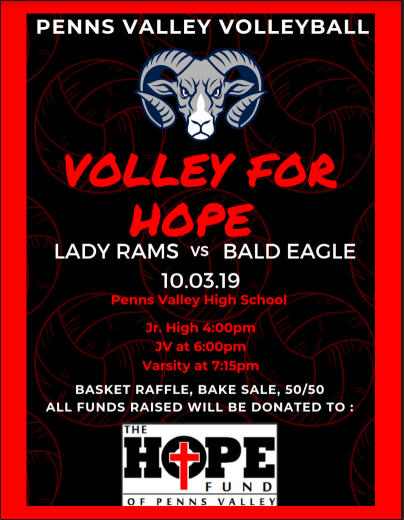 On Thursday October 3rd, the Penns Valley Lady Rams Volleyball team will be hosting their "Volley For HOPE" Hope Awareness Night when they play Bald Eagle in the New Gym.
The Penns Valley HOPE Fund is a Christian based, non-denominational, non-profit organization dedicated to helping other people everyday, specifically within the Valley. The purpose of the HOPE fund is to financially assist the Penns Valley Area School District in medical crisis or natural disaster and give financial aid to people living within the Valley.
The HOPE fund was started in response to the caring and generous people living in Penns Valley. All of the money that the HOPE fund raises STAYS in Penns Valley to help those in need.  It is the belief of THE HOPE FUND that people are likely to recover faster when they have to worry less about financial issues. The Hope Fund has helped stroke victims, cancer patients, heart attack victims, accident victims and those displaced by house fires, along with many other types of families and patients.
On Hope Awareness Night, your Lady Rams Volleyball Team will be decked out in their HOPE Awareness t-shirts as they take on the BEA Eagles this coming Thursday.
On Hope Awareness Night, you have many chances to come out and win a variety of raffle baskets provided by volunteers. You can also support the cause, the HOPE Fund, by purchasing delicious baked goods and HOPE inspired Pura Vida Bracelets that will be sold the night of the game for only $5.00. A 50/50 raffle will also be taking place this night, and the drawings will take place during the second set of the Varsity Game!
At the game, wear your HOPE t-shirt or Red and Black and come out and support this worthy cause! Jr High starts us off at 4, our JV team plays at 6:00, and your VARSITY team plays at 7:15! Be There and Support!
If you are interested in coming to more Lady Rams Volleyball Games, we have plenty more in October!