VICTORY IS THE GOAL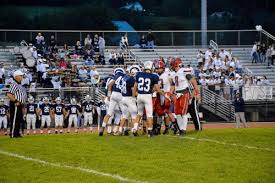 SPRING MILLS, PENNSYLVANIA – The Penns Valley Rams and the Bellefonte Raiders have been hometown rivals for as long as the seniors on the team can remember. This makes the upcoming game under the stadium lights one for the record books as the stands will surely be packed on both sides of the Stadium. The game will be held on Friday, October 4, 2019, at 7:00 PM on the Raiders' new Rogers Stadium. 
Both teams have a season record of 5-1 but the Penns Valley Rams have a conference record of 3-1  whereas the Raiders have a 4-0 conference record. The Rams hold a 4-win streak and the Raiders hold a 5-win streak as they go into the 7th game of the season (without playoffs). In terms of their statistics and past game wins, the Raiders have a slight edge over the Rams as the Raiders won their latest game against the Clearfield Bison – the only team the Rams have lost to this season. 
Currently, the Bellefonte Raiders are seated in the 19th position for the AAAA playoffs – this is their statistic-based probability of winning the playoffs. The Penns Valley Rams are currently seated in the 12th position for the PIAA playoffs, 6 places behind the Richland Rams who proved to be Penns Valley's downfall in the 2018 football season. Both teams will go into Friday nights game with their eyes set on winning to improve their chances of winning playoffs and improve their statistics. 
The Raiders will be dressed in their school colors of red and white as they step onto the field with a national ranking of 4131 and a state ranking of 132 while the Rams storm the field in their blue and white uniforms with a national ranking of 4215 and a state ranking of 135. Shanon Manning (Bellefonte)  and Martin Tobias (Penns Valley) are the coaches of the rival teams and both are pushing and conditioning their players for this game and the rest of the season in hopes of success.