Whataburger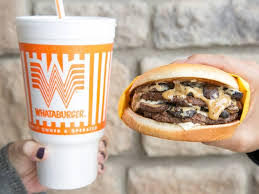 Pennsylvania is one of the thirteen original colonies, it is rich with history but what people don't know is how much it lacks. The attractions and close proximity to our neighboring states might be nice, but when you live in Penns Valley everything is at least a 30 minute drive. Have you ever thought to think of all the things we're missing? All the amazing corporations our small community is deprived of? Because I sure have.
Whataburger, one of the most amazingly filling yet inexpensive fast food chains there is, ever heard of it? Probably not. It is exclusively a Texas chain though it is starting to make some appearances in Florida.  Not only are their burgers twice the size of any McDonald's cheeseburger but the taste is enough to put you over the edge. With their crunchy yet soft onions and surplus of topping options how could you resist driving 25 hours for one of these babies?
With a menu the size of a dine in restaurant there are tons of options even for your pickiest eaters. Just imagine the jalapeños, red onions, white onions, pickles, even avocado! A burger built just for you! The temptation is hard to resist…but wait…it only gets better.
I don't know about you, but I'm not much of a breakfast person. Pancakes? No. Waffles? No. French toast? No. But at Whataburger that doesn't matter. Of course they have breakfast foods, but they also have something even better. All day burgers. No more waiting until 10:30 to eat what you really want, no matter the time, you can always buy yourself a burger. With all these positives I can't think of a reason we shouldn't pack a bag and take a trip there today.