California Wildfires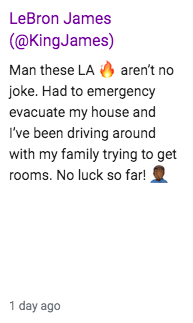 There are currently nine active wildfires in California. The types of fires include Kincade Fire, Cabrillo Fire, Nelson Fire and Muir Fire, Saddle Ridge Fire, Tick Fire, Old Water Fire, Oak Fire and Palisades Fire. These fires combined have destroyed about 30,000 acres across California.  
The Tick fire is currently out of control and has caused thousands of residents to leave their homes. 
The extremely critical fire conditions causes 18 million people in Southern California to be under red flag warnings. On October 28th, 2019 planes began scooping up water from the Pacific Ocean to drop on the Getty Fire. 
There are remarkably dangerous Santa Ana winds in California – wind gusts of about 60- 70 miles per hour. Northern California is currently expecting another wind storm that could potentially complicate efforts to distinguish the fire. The National Weather Service issued a wind advisory for parts of California on Tuesday. 
Famous NBA player Lebron James tweeted, "Man these LA (fire emoji) aren't no joke. Had to emergency evacuate my house and I've been driving around with my family trying to get rooms. No luck so far! (face-palm emoji)". This Los Angeles Lakers basketball player tweets about the California wildfires and asks his fans to please get to safety. 
About 200,000 wine country residents were forced to evacuate their homes and get to safety due to these dangerous and very threatening forest fires. 
On October 29th, 2019 the fire is currently 5% contained and 20,000 people still remain under evacuation order. 
The fire currently occupies about 75,000 acres, thats twice the size of San Francisco, making it California's biggest fire of the year. Officials expect the fire to burn until at least November 7th.