Mystery Oreos?!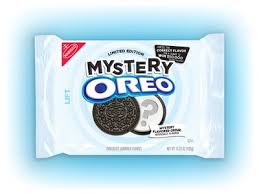 Oreos, America's favorite snack food! What's better than grabbing a pack of Oreos and a big glass of milk and just going to town? Thats right, nothing! There is nothing better than Oreos and milk. Every single year they hold this competition with the winning prize of 50,000
This year, Oreos are holding a competition. They dropped these things called "Mystery Oreos" and they are exactly what they sound like. They are a mystery flavor of Oreo, and the company Oreo themselves are holding a competition where whoever guessed the correct flavor wins 50,000 dollars. The Oreo website release another clue every week as to what the flavor is everyday. There have been eight clues released so far, and they are no longer releasing clues so now you must do further investigation on your own to try and figure out what the flavor is. You are able to submit a new guess every day, but you are only able to do one guess a day so you really have to think about every single taste you get from eating the Oreo.
In 2017 the Oreo company held this competition where the flavor was fruity pebble cereal, no one was able to crack the code and the flavor was released before anyone could guess the correct flavor. In 2018 a California woman guessed the correct flavor which was Cherry Coca Cola (sounds gross to me) and she won the grand prize of 50,000 dollars.
This year there have been millions of guesses, but you still have four days to guess as the competition comes to an end on November 10th. So keep thinking hard and guessing every day for the next 4 days to see if you can guess the correct flavor and win the grand prize of 50,000 dollars!!