Disney Plus Or Netflix?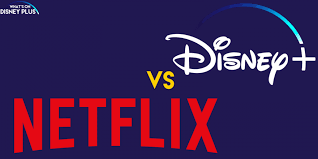 Disney Plus is an American streaming service like Netflix and Hulu that is owned by the Walt Disney Direct-to-Consumer & International division of The Walt Disney Company. The service debuted on November 12, 2019, in the United States, Canada, and the Netherlands. It offers Disney shows from the begging of Disney to the present day. The platform also owns Pixar, Marvel, and StarWars as well as National Geographic.
People were sharing concerns that since Disney Plus came out that Netflix would eventually go out of business but since Disney Plus has come out Netflix has not seen a drop in stocks. Even though they didn't see a drop-in stocks people are urging Netflix to drop their price per month. Right now Netflix costs $9.00 for the single plan and can be up to $16.00 depending on what plan you have. Netflix also just signed a deal to produce and stream Nickelodeon shows. Netflix also has original series like Stranger Things, 13 Reasons why, and On My Block that is super popular and can't watch anywhere but Netflix.
Some say that with Disney plus you get more bang for your buck. The streaming sites only $6.99 per month with being able to watch on multiple devices at once as well as having the ability to have different "profiles." People say that Disney plus is worth it because you are able to have all the Star Wars and Marvel movies right at your fingertips. While most people either have them on DVD or rent them on something like Amazon Prime or try and catch them on tv. But what about other tv series of movies? Unfortunately, unless the company is owned by Disney you will not find them on the website.
In my opinion, Disney plus is great. It's like scrolling through my childhood when I see movies and tv shows like Lady and the Tramp, Avatar, Good Luck Charlie, and Kim Possible. I'm also a big fan of Marvel so being able to easily watch all the Avenger movies is worth it for me. The only critic I have for the streaming site is that it's not easy to navigate and they don't have a "continue watching" section. Other than that I would have to say I am leaning toward Disney Plus. While I still love Netflix, for me Disney Plus just has more.