A Merry Time in Millheim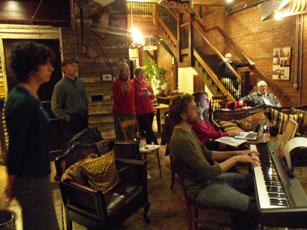 Merry Millheim is a Christmas festival that takes place every year in Millheim, PA where the main street is transformed into a festive place with art galleries, shops, and places to eat. These are very unique and fun places to visit that many people enjoy.
The local culture center, St. Luke's, hosts a Christmas party with a DJ spinning vinyl, while guests and visitors can bring ornaments and decorations to help decorate the huge Christmas tree. People can also enjoy some popcorn while standing around the antique player piano at the local medical supply store. There's such a wide variety of food and music all around the town that kids and adults can both enjoy.
There are also stores that host crafts and games for children, such as glitter strands, kiddie holiday manicures, Christmas cookie decorating, and puppet shows. Santa also makes multiple appearances throughout the town.
As well as music and activities, there are also lots of custom boutiques and market open to all the visitors. These markets sell homemade crafts like jewelries, artistic glass, fine wood art, and handcrafted paper. If you visit the markets, you must visit the adorable boutiques that sell some beautiful work such as custom jewelry, pottery, furniture, art, and so much more. Merry Millheim also offers free gift wrapping all weekend, which can be a huge life saver for many people and families.
Merry Millheim is located at multiple stores and locations on the main street of Millheim, PA. It is considered to be a huge success in this small town of Penns Valley and brings in lots of new and old visitors to have a great time during the festive holiday season.