We All Want Is Ice Cream
Something everyone craves. . . ICE CREAM!! But the real question is, why is there no local ice cream shops that stay open during the winter? The two local ice cream shops are Sweet Scoops Gelato in Centre Hall, PA, and Riddles in Spring Mills, PA. These are the only two ice cream places in Penns Valley that are "real" ice cream places.
The only place that you can buy ice cream in the months of Oct and April is Burkholder's. Burkholder's have soft-serve available with some toppings but this is very limited cause the only flavors that are available are chocolate and vanilla. I have asked 10 people and out of the 10, 9 said they would still get ice cream in the winter if there was someone local open. The closest ice cream shop that is open in the winter is Meyers Diary. I personally work at Sweet Scoops and I do experience the "slowing down weeks" and I do have to say so myself, it sucks sometimes. However, I'd rather take the boring shifts than not have ice cream all summer. I feel like ice cream nowadays is not just a summer thing, in past decades it has become this all year round family and date outing ideas.
Some can argue that it isn't important to them cause you can buy tubs in the store, but I think a lot of people would enjoy soft-serve every once and a while or even flavors that are not common in stores such as teaberry or pistachio. If ice cream shops are really losing a lot of money there are solutions such as cutting down hours, or not buying as much ice cream, even make menu adjustments for the season to make it fun and bring in customers.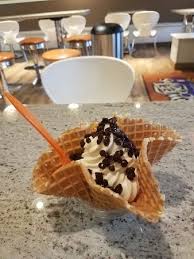 This is one of the items at Sweet Scoops Gelato that would be great for a date!