How Social Media Effects Teenagers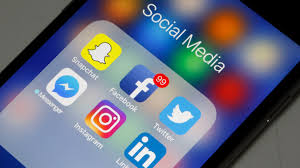 Social media has become one of the most key ways of communication amongst teens. Social apps such as Instagram and Snapchat are how many teenagers stay in touch with one another. While social media usage has risen, mental health issues have as well. Is there a possible connection between the two?
While many adults seem to believe that because of this high use in social media, many adolescents have acquired mental health issues because of it. Social media can have many effects on everyone, some positive and others negative. While social media promotes the idea of body positivity and support for various issues, it also does feature many negative aspects.
The article "Teenagers can use social media to find community, but their mental health is often negatively affected by this culture of comparison" by Katie Hurley shows that a study out of the University of Pittsburgh suggests "One study found a correlation between time spent scrolling through social media apps and negative body image feedback. Those who had spent more time on social media had 2.2 times the risk of reporting eating and body image concerns, compared to their peers who spent less time on social media. The participants who spent the most time on social media had 2.6 times the risk."
Most teenagers see famous people and "body positivity promoters" and find themselves wondering, "Why can't I look like that?" This sets a bad example for kids who are already at a weird point of their life and often already self-conscious to be even more concerned with their body image. Many young women are the most affected by this, it leads them down a negative path of self-hatred and doing negative things to themselves to try to change their body.
Mental health is affected by more than just body image, online bullying is the most common type of bullying nowadays. While it may not be a huge issue around here, it is in other places. Social media has it's negative effects but that's not going to stop students from using it. Many of them see it as a way to relax and talk to friends after a stressful day at school or work.