Penns Valley Volleyball's Historic Season Comes to an End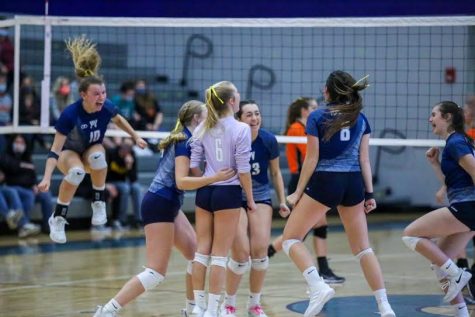 Penns Valley volleyball's season came to an end this past Wednesday with a loss to four-time state champions, Northern Cambria. The Lady Rams put up a great fight, but unfortunately, it was not enough to advance to the District 6 AA Semifinals. Set scores were as follows: (15-25), (15-25), (13-25).
Before their loss, the fifth-seeded Lady Rams came out strong off of a three-set sweep of United.
Despite Wednesday's loss, the Lady Rams still had a historic season nonetheless and made it to the district quarterfinals for only the second time in program history. Penns Valley Volleyball finished their season at a record of 13-7 and sitting at third in the Mountain League.
In addition to the Lady Rams' team success this season, many athletes reached individual milestones and records. Jadyn Butler, a three-year starting libero and Class of 2021 senior, reached her 1,000th dig in late September. Upon reaching her 1,000th dig, Butler broke the school record, previously set by 2019 graduate, Emma Butler. Butler ended her outstanding high school career with a total of 1,237 digs. Fellow senior Hailey Coursen also accomplished a significant feat, when she recorded her 1,000th career assist on October 20th versus Bellefonte. When the season came to a close on Wednesday, Coursen had tallied 1,052 assists in her high school career. Joining Butler and Coursen in their individual accomplishments is a junior middle blocker, Cameron Upcraft. Upcraft ended her season with 185 kills (this season), and a hitting percentage of 0.313 for the school record.
Regardless of the outcome, the Lady Rams had a tremendous season and a lot to be proud of.
Team Leaders for the Season:
Aces: Kailen Winkelblech (28), Anna Butler (26), Jadyn Butler (25), Ellie Coursen (21)
Serve Recieve Rating (Out of 3): Jadyn Butler (2.14), Maddie Butler (1.94), Kailen Winkleblech (1.89)
Kills: Cameron Upcraft (185), Kailen Winkelblech (124), Ellie Coursen (92), Anna Butler (89), Ella Hadley (79)
Hitting Percentage: Cameron Upcraft (0.313), Ellie Coursen (0.087), Kailen Winkelblech (0.079), Ella Hadley (0.069)
Blocks: Cameron Upcraft (17.5), Ellie Coursen (15.5)
Assists: Hailey Coursen (467)
Digs: Jadyn Butler (362), Anna Butler (190), Hailey Coursen (176), Kailen Winkelblech (145), Maddie Butler (108)