Penns Valley student completes memorial for the Fire Chiefs of Miles Township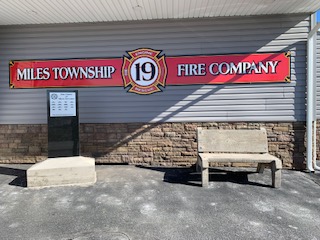 Penns Valley High school student Nicholas Bair has spent the past year and a half working on a memorial for the Fire Chiefs of his hometown. He wanted to build and dedicate something to the Fire Chiefs of Miles Township because of their hard work and sacrifice throughout the years. He has worked closely with the current Fire Chief (Eric Miller) to build the memorial. The project took over a year to plan and 3 months to build. The project consists of two main parts, the granite memorial itself and a bench.
To build the monument, he first had to cut away the amosite in the front of the Rebersburg Fire Hall on 102 Broad Street. He then designed a wooden structure to form the concrete for the base. He poured the concrete with a 1950 cement mixer donated by his family. Scott Long helped to pour and form the concrete.  Then once the base was finished drying, it was time to slide the granite into the slot at the top. They then had to build a heated enclosure around the monument to glue the plaque on. Once the glue hardened they removed the enclosure and placed the bench.
The project turned out better than anyone could have imagined. Eric Miller (The current Fire Chief of Miles Township) was very impressed and grateful for the project. Nicholas Bair has recently finished his Scout Master Conference and is awaiting his Eagle Scout board of review. Due to Covid 19 the exact date is still unknown, so wish him luck on his path to Eagle!