We Should Take a Break…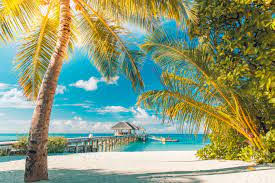 It can be confirmed by the common Pennsylvanian that the weather here is by far the most indecisive of all states. Consider the fact that in this past week of March, Central Pennsylvania has experienced the fluctuation of practically two snow storms with inches of snow, but in the midst of them we had a few gorgeous, sunny days. Meanwhile, students of Penns Valley get to scroll through their social media, envying those who are living their best lives on a beach in the south. Considering the appreciation students have towards holiday breaks throughout mainly the first semester of the year, it should be addressed that the second half of the year is also divided in order to give the students the opportunity to rejuvenate.
The advantage that Thanksgiving and Christmas break hold is a period for students to recover from working hard in school. After returning in January and students start a new set of classes, it is important to once again prioritize that recovering period. How can it be expected from students to perform their best work if they are mentally drained and exhausted? It is proven that learning breaks increase concentration and facilitate the memorization of new contents. Terms of relaxation are essential for achieving productivity, success, and an overall better outlook for one's future.
High schools surrounding Penns Valley are already participating in spring break. Not only primary education, but colleges nationwide partake in this rest period in order to give their students time off from school. Spring break enables the opportunity for students to catch up on work or sleep, or take their minds off of things by participating in some traveling.
While Pennsylvania is rather dreary when it comes to weather at the start of spring, it may become an obstacle for students' mentality in school. It is shown that exposure to sunlight is how your body produces vitamin D, which is necessary for many vital functions and has been linked to improved mood and depression. The advantages that traveling to a warmer area have on mental health are astronomical, so it makes sense to give students this chance.
The origins of spring break are traced to Greek and Roman celebrations of spring, known in ancient times as a season of fertility and new beginning. These spring festivities have evolved from then into time off for students. Given the reasoning and circumstances behind spring break, all schools should allow time off during this season for students to recover from stress from classes.