Raw and Unpasteurized
Local Business Owner Educates the Public on the Importance of Gut Diversity!
Local business owner, Joan Karp, is in pursuit to make the world a better, happier, and healthier place for everyone she is surrounded with using her home-based business, Keystone Cultures Co. Keystone Cultures is a business that grows kombucha and water kefir. Kombucha is a probiotic tea made from a living culture that is called SCOBY. SCOBY stands for symbiotic culture of bacteria and yeast. Essentially, it is a growing bacteria that is good for you and needs to be fed. The specific kombucha SCOBY is fed organic cane juice and teas. The SCOBY that creates the water kefir feeds on organic cane juice and is separate from the kombucha. The mother SCOBY is kept in a sweet tea brew and each different batch is made in the same place. When each batch is made, a new biofilm layer is produced, growing the momma SCOBY.
More specifically, Joan learned to make it from trial and error. Kombucha has been made for years and has recently started making its comeback. Joan explains, "I routinely check the health of my SCOBY's (mother cultures) and measure pH to assure that our drinks are safe. The PA Dept of Ag considers Kombucha to be a non-hazardous food and sort of categorizes us in the same vein as a pickle." Her kombucha is unique compared to other companies because the Keystone Cultures foundation is not a large manufacturing plant, they culture their products in smaller batches, and they only select organic teas and consistently manage the brewing times and temperatures to assure the mild final product that everyone has come to love. She says, "I love the delicate nature of our kombucha. It's pleasant to drink, with little to no acetic acid taste."
Keystone Cultures is the outcome of Joan's various personal training businesses. She started culturing gallons of kombucha at a time and decided to share the product with her training partners. When Joan did so, these people that were consuming the product began to notice all kinds of positive changes in a variety of aspects in their lives. After a nagging friend continued to push her to start a business for the beloved drink, she caved and then came Mount NitaNee Kombucha. Mount NitaNee Kombucha was just the beginning for Joan's business. It began around 5 years ago in a kitchen in Aaronsburg, Pennsylvania, and eventually branched into a licensed commercial kitchen in her home. Many locals played a major role in helping her get up and going. After three years with the name, the business grew to outside of the valley and so more people understood when the heard Keystone in the Keystone Cultures name. Not only was the setting setting and the growth of the business more fitting for it to be called Keystone Cultures, but the products expanded, too. That was when Joan began to culture more items like kraut, kvass, and soaps! Joan adds, "The gut is also the keystone of human well-being. If the gut is out of balance, so is the human. The gut is literally the keystone of your vibrant health. I can't tell you how much I love helping people honor their one wild and precious lives!"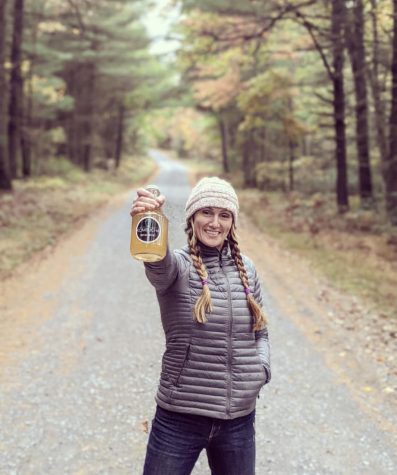 Joan hopes the business will be able to open up a new world for everyone. She says, "I would love for Keystone Cultures to bless anyone it touches." Joan hopes that everyone will be able to  improve their gut diversity. Joan tells us, "Science has absolutely revealed that gut health is the keystone of all health. Gut health is the root of vibrant life." She advocates your gut's need for richness and diversity. Living beverages and foods will help you with nutrient absorption, sub-optimal digestion, bowel function, hormone production, mental acuity, and even emotional well-being. Your gut can be compared to the brain. Every time your brain sends a message, your gut sends ten more to your brain! This is why it is so important to have a healthy, well nurtured gut. Joan is always doing her best to help other people out so she wants the business to grow bigger to employ neighbors and friends full-time. Joan stands by the fact that work environments should be pleasant and rewarding and that we all need to spend more time immersed in nature. The business crew is truly a family. They support each other in living healthy lives, making sure they get outside enough, eat raw and living foods, and to love themselves! If the business grows to a larger foundation, Joan and her husband, Jeff, will fulfill their dreams of more van travel and having fun with their many outdoor, physically engaging hobbies. Joan wants to do more than just travel. She likes to stretch her agenda and keep herself busy. Joan says, "My personal business goal is to grow sufficiently in 2022 to hire a full-time culturing manager so that I can work on writing books about home birthing and schooling/living in non-traditional ways." She is set on living her life to the fullest of capacities and encouraging others to do the same.  She says, "My goal is to age with as much grace as possible and I'm convinced that gut health is an essential piece. Happy gut. Happy life. Cheers to living a great story!"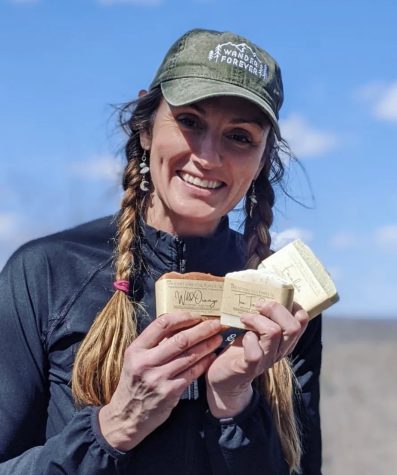 Joan was always interested in vibrant living. She was always a girl who would be out biking or swimming instead of going out with friends to go shopping or get their nails done. One day while lap-swimming, Joan was invited to a woman's house for breakfast. That morning, she biked nine miles to her house where she was met with all kinds of cool things: dried fruits, herbs, grains, and a big jar of SCOBY. It was then that she was introduced to raw, living foods and drinks. Joan wasn't that interested at the time because she didn't understand the importance of the gut-brain connection. Now, years later, she is a mother of three, living in Penns Valley, and surrounded by non-English neighbors who were culturing and reintroducing her to kombucha! Joan says, "That's what got me hooked! The slightly tangy, slightly effervescent beverage that I learned was bubbling and alive with good bacteria."
Keystone Cultures is not just drinks. Along with their delicious kombucha and water kefir, they make a long list of other things like: kombucha based soaps, salad dressings, sea moss, facial toners, hair care, and more. All natural products for an all natural you!