Epic Events: Hot New Things Happening at PVHS
            This new school year's events are off to a hot start. There are a lot of different things that are going to be happening that we know about so far. This article can be used to inform students, staff,  and parents about the sports, clubs, programs, and activities happening from October through November. There is a wide range of sports at Penns Valley from football to golf and everything in between. We have 19 clubs, such as Diversity club, FFA, Rambotics, History Club, PV Rams Care, and the list goes on and on.  Anyone can participate in clubs when the signup sheet is posted/handout.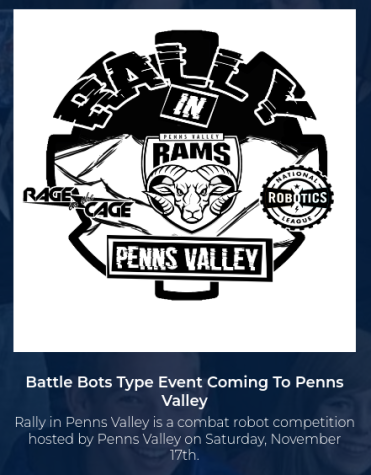 Speaking of events happening in the school year, fall picture day will be held on October 13th, 2022, and picture retakes will be held on November 21st, 2022. On Saturday, November 17th, 2022, there will be a battle bot event held called Rally in Penns Valley. This is a combat robot competition. All who plan to attend will have a ton of fun!
               A PV parent said, "I am very excited about all the sports and events happening this fall and winter season. I am also glad most of the team is doing well so far this season!" There are also homecoming, spirit weeks, and many other events that go on throughout the year. We have 19 clubs for all grades and a ton of different sports to choose from, such as girl and boy basketball, baseball, softball, golf, cheer, boys soccer, girls soccer, girls track, boys track, and many more. We have JV (junior varsity), and varsity sports that get played every season they are held. At the beginning of every year, Penns Valley High School allows students to participate in clubs. Any student who wants to participate in sports or is already participating in sports has to maintain good grades, or they will face some consequences when it comes to playing your sport. This is the hyperlink to where I got my picture from, https://pvhs.pennsvalley.org/. If you scroll down almost to the bottom of the page you will see the "Rally in Penns Valley" picture and description.