Here's the Scoop of Homecoming Queen and King
 Have you ever heard of homecoming court? Well if you have then you know that homecoming court is high schoolers who are running for queen but this year we have new additions to the court we have a running for homecoming king, and I got the scoop about homecoming court. In this article, I got exclusive insights with the homecoming court and what they like about homecoming.
Why did you go out for homecoming queen or king?
(Logan Conrad) "So I was nominated by someone and I thought to do different things. To just do as many experiences as possible and I thought that being on homecoming court be fun." (Ellie Courson) "I thought it would be really fun. I also was so excited to go all out for spirit days and decorate doors and to have an opportunity to be a good role model for some of the littler kids in this school. I just went out for the experience and for fun." (Hayden Houser) "Well because it is my senior year I decided why not and this was out of my comfort zone, I will never get to do it again."
What is your favorite door so far in the school?
(Micah Good) " For the girls Like Paige Dason, because she did like the walls, and for guys Hayden, he did Guess who which is pretty cool." (Paige Dobson) "For the boys, I am going to say Hayden's Guess who, And for the girls, I really like the wheel of history that Sarah did I also like Ellie's she did the Candy Land and how she put the teacher faces on the candy. I thought that was really fun."
What is your favorite part about being on homecoming court?
(Sarah Breon)" I like that I am talking to some of the people I do not normally talk to. I got added into a group chat and so we talk about what we are going to wear for homecoming and that kind of stuff." (Ann-Marie McMurtric) "My favorite thing would be the atmosphere of this all like a lot the people coming up to me and getting compliments. Being side by side with my friends and laughing all week long, decorating the doors, and the pep rally will be so much fun. I enjoy seeing yourself making other people feel happy."
What is your favorite thing about homecoming?
(Isaac Braucht) "My favorite thing about homecoming is all the old students come back and Converse with the alumnus and like having people come in and play in the band with us" (Micah Good) "I would say the football game because the football game is Always so fun. Also, the student section makes it so fun." (Sarah Breon) "I like the dance but I also like the football game because a whole bunch of people from the community comes out to show support for Penns Valley Queen and now King and that is really cool."
Why do you think that you should be homecoming queen or king that makes you stand out from the competition?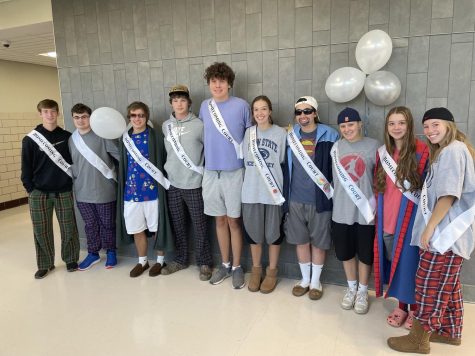 (Paige Dobson) "I think that I have a Mary outgoing personality and I know that Ellie's outfits are really good but I have an outgoing personality and I am very kind. I set a good example and am a good role model for the younger students. That is important to have for the homecoming queen.
You have to have a responsibility because everybody's going to know you. So Even if you win You still have to be kind to one another. So I feel like I am going to be good at that. (Hayden Houser) "I think that I am just very unique compared to everyone else I always like getting involved with everyone and going all out just for the enjoyment of all this."
In conclusion, home homecoming court is one of the best ways to get involved in the school when you're a senior. For more info click here https://pvmedia.org/5274/community/homecoming-2022-is-a-little-different/