Dijon Mustard, Love it or Hate it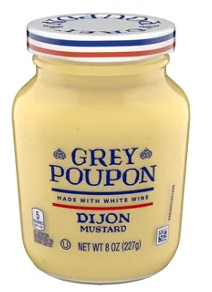 Food condiments can be a hot topic. Each condiment has its own labyrinth of opinions. Often discussed opinions are which variation is the best? Which food does it taste best with? Is the condiment any good at all? Condiments cause heated debates because they can make or break a meal.
One of the most popular, yet unrecognized condiments is mustard. Known for its yellow color, and distinct tangy flavor, you can often find yourself giving an unpopular opinion when talking about it. It is even featured in our own cafeteria. Instead of slandering mustard, I am going to keep it in the spotlight and reveal which kind of mustard is king.
This brings us to the yellowish brown, sporadically tasting dijon mustard. Dijon mustard is the king of mustard. It is not for the faint of heart, when ingested even in small amounts, it can feel like you have rubbing alcohol up your nose. Your senses go fuzzy for a second. When used correctly it can enhance flavor, and adds a pungent after taste that wakes you up. It is for these reasons that it is the king of mustard. It is the delicate balance of pain and flavor that elevates it. It is like fire, it can illuminate a dark passage, but mess around too much and you can end up lighting the passage on fire. When one masters the use of dijon mustard, then can they truly understand its power. For others they may just want to abuse themselves with the feeling. According to one Mr. Robson, "There are two types of mustard, dipping, and sandwich mustard…if I have nothing else but dijon, I'll eat it, it's fine." Many people shy away from dijon mustard, but for those that take it head on, I salute you.