Facebook Dating App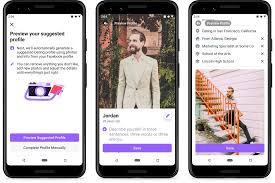 Facebook announced that they will be releasing a dating app that can be linked to your Instagram or Facebook profile. Linking your Instagram account allows this dating app to have access to your photos. The app made release in Columbia and is still being touched up. It's almost the same set up as Bumble, linking you to people who share an interest. It will also allow blocking and reporting users. It will also promote "missed connections", linking you to people who are part of the same group as you. So say you're in a staff group, you might have the possibility of being matched with a coworker. "We didn't want to include anything around swiping or games," Sharp said. "Facebook Dating is about conversations."
Facebook recently had privacy concerns but announced this new app will allow you to stop sharing your information or delete your account completely at any time. "We're committed to protecting people's privacy within Facebook Dating so that we can create a place where people feel comfortable looking for a date and starting meaningful relationships," Erin Egan, VP and Chief Privacy Officer said in a blog post Thursday.
While Facebook Dating won't match you with your Facebook friends, which means you won't accidentally see your dad on there, it will have a feature called "secret crush" that will let you flirt with people you already know. "secret crush" lets you choose up to nine friends to label as a crush. If one of those nine friends adds you, it notifies you.
Facebook Dating App is entirely on the Facebook mobile app. It also won't require users to match before sending messages, which can be a concern for some people.
While this app is mainly meant for older people, you are required to be 18 in order to use it.