Invisible Holidays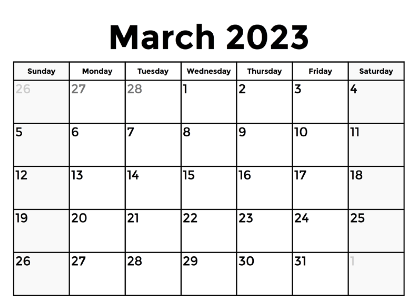 We all know the normal holidays that people can't wait for. The common ones are known as Halloween, Christmas, New Year's, or even our most recent one, Valentine's Day. Well, what if I told you that we have a holiday for almost every day? In fact, there are so many that I can't list all of them in this article, but since March is coming up, I'm going to let you know about all the upcoming holidays that no one is celebrating or even mentioning.
March 1st is World Compliment Day and Plan a Solo Vacation Day, which sounds to me like on March 1st you shouldn't only be nice to others, but also treat yourself! March 2nd is Old Stuff Day. This is your sign to clean out any closets, garages, etc. March 3rd is I Want You to Be Happy Day because you should always do something that makes others happy, especially on this day. The 4th of March is "Do Something Day," and you should be encouraged to work toward your dreams or the SMART goals we use at school. March 5th is "Learn What Your Name Means Day" because while the word you say most may be your name, most people don't actually know the meaning behind it. March 6th is "Dentist's Day because what every kid wants is a holiday named after them. March 7th is "Alexander Graham Bell Day." Alexander Graham Bell invented the first ever telephone, so take a few minutes of screen time out of your day to appreciate the thing that you are missing when you remember him. Hopefully, this article has no typos because March 8th is "National Proofreading Day to promote error-free writing. March 9th has no holiday but that's fine because sometimes it's okay to keep things a little simple. March 10th is Mario Day, it is an annual celebration for the entire Mario franchise. March 11th is Oatmeal Nut Waffle Day so we can celebrate a healthier version of waffles. 
For these next few the school could use for more spirit weeks. I bet everyone but kids ages 3-10 are going to like this one but March 12th is Napping Day. March 13th is Jewel Day so you can wear some jewelry to appreciate the artisans who created them. March 14th is Pi Day and the celebrations include complete opposites because it's the thing we love most, food, and the thing most people hate math. Have some pie or recite pi in a competition. March 15th is Everything You Think is Wrong Day, avoid decision making which is perfect for me because I'm indecisive. March 15th is also Incredible Kid Day so you need to honor all of the incredible kids in your life. Time to take a break from everything but this article because March 16th is Everything You Do is Right Day! March 17th is Submarine Day because we should appreciate all of the people who work on submarines. This next one is my personal favorite because I'm also awkward and March 18th is Awkward Moments Day! March 19th is Let's Laugh Day so laugh when you have the chance because they say laughing is the best medicine. March 20th is World Storytelling Day so listen to as many stories as you can, day and night. March 21st is "Common Courtesy Day" because it's always good for us to remember that the world is better off when we show some respect in any way possible. March 22nd is "International Goof Off Day" which means it's time to bring out your favorite comedy movies and be silly. March 23rd is "Ok Day" and "Puppy Day." Ok day is celebrated every year on March 23rd because it is simply to celebrate the word ok. Puppy day is to celebrate all of the puppies that brought light into your life the second you saw them. March 24th is "Chocolate Covered Raisins Day" and nobody really knows why this is a holiday. March 25th is "Waffle Day" so bring out the Eggos or go to your local waffle house. March 26th is "Make Up Your Own Holiday Day" and the title pretty much speaks for itself so get creative and create your own holiday! March 27th is "Spanish Paella Day" so you can learn how to make a new dish for dinner. March 28th is "Something on a Stick Day" so you can grab sticks and skewers and get creative with your kabobs. March 29th is "Smoke and Mirrors Day" created to recognize the skilled magicians that create illusions to trick our minds. March 30th says to get outside to enjoy the weather and exercise because it's "Take a Walk in the Park Day." Finally, we have come to the end of the month with no breaks from school other than weekends because in case you forgot there are 31 days in March, and March 31st is "Bunsen Burner Day" the day all about science so you can share your favorite science experiments. 
Thank you for spending your time appreciating all of our invisible holidays. Spread the word about your favorites so we can celebrate something small because as Cliff Shaw once said, "It's the little things that count, hundreds of 'em."