Top 10 Things to do at the Great Grange Fair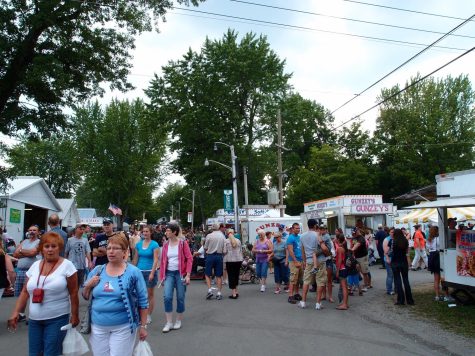 The end of the school year is quickly approaching and all students and teachers are making plans for their summers. When I think of ways to spend my summer, one of the things that's always at the top of my list is to spend time at the great Grange Fair. The Grange Fair is a fair that takes place in Centre Hall, PA. This year, the fair runs from August 18th through the 26th. It will cost you $25.00 admission for the week or $8.00 for a daily admission. You also have to pay to park. Many local organizations will also sell you tickets as a fundraiser for $20.00. The fair offers many great things, in this list I will go over 10 of the best things you can do at the Great Grange Fair.
#1- Walk the Grounds
The Grange fair is huge and it's really fun to walk the grounds and explore. There are buildings to visit which have many things on display like artwork and produce. There are also vendors that sell different things. There are new places that come in every year. If you have any free-time while at the fair I recommend that you walk the grounds and check things out.
#2- Ride some Rides
The Grange Fair has two different ride sections, Garbricks and Bartlebaughs. Each have some unique rides. You can buy tickets for each ride or you can get a weekly or daily wrist-band. I recommend going on the "Super Trooper" ride at night time because you can get a view of the whole fair. You can also get a view of the Tractor pull if you're lucky which is really fun.
#3- Ride the Tram
The tram is a tractor pulling covered wagons with lots of seating. Anyone can ride the tram and it's free. It goes in a circle all around the Grange fair. This is perfect for sight-seeing and it's pretty good if you get tired and don't want to walk. You can find the tram by waiting at the tram stops and eventually one will come. There are 3 different trams that take different routes. I recommend doing at least one lap around the entire fair so you can see everything.
#4-Play Games
There are several games you can play in the fair to win prizes. There are games for younger kids, like picking up ducks, and some for older kids that take a little more skills. One of my favorites is Ski-ball. It's a lot of fun and you can save up little prizes to try and win a big one.
#5- Eat Food
Everyone that comes to the fair, has their favorite foods that they go to every year. You can find all kinds of fair foods, from chicken on a stick to ice cream, to pretty much anything deep fried. My favorite food to eat is pizza, I recommend Canyon Pizza. Every year they have a deal on two slices with bread sticks and a drink.
#6- See the Animals
A big part of the fair is to promote agriculture and farming. At the far edge of the fair, there are animal pens with many different animals including: rabbits, horses, pigs, cows, chickens, sheep, and goats. Many kids and farmers raise these animals and bring them to the fair to try and win prizes and sell them for money.
#7- Watch a Show
During the fair, there are several live performances at the Grand Stand that you can watch. These shows are included with your parking ticket for free. If there is a show that you really want to see, you may want to go early to get a seat because the grandstand can fill up quickly. Many of the shows are country singers.
#8- Watch the Tractor Pulls
During these pulls a tractor, or sometimes a truck, pulls something behind it that is very heavy. The drivers try to be the ones who can pull the objects the furthest. The drivers put a lot of work into their tractors so that they look nice and can get the job done. You can watch the pulls for free and they usually get a pretty big crowd. They are very loud though, so be prepared.
#9- Visit with Friends and Family
Many generations of families come to the fair to spend time together. I usually get to see many of my cousins, aunts, uncles, grandparents and even great aunts and uncles. You will also see friends at the fair that you might not have seen for a long time. It's nice to sit down with people at your tent or camper and have a snack or drink and catch up.
#10- Spend the Night
After completing this list you might be pretty tired. If you have a tent or camper you can stay the night at the fair. All stands will start to close around 10-10:30 pm and curfew is at 11:00pm. Make sure you bring your blankets and pillows because at night time it can start to get a little cold.
This list has some of my favorites, but there is lots more to see and do at the Grange Fair. I look forward to it every year!