PVXC Makes a Name for Themselves at State Meet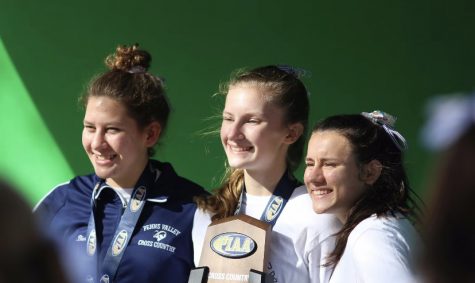 On November 7, 2020, members of the Penns Valley girls and boys cross country teams ended their seasons on an extremely high note, finishing first and second in the state, respectively.
Leading the girls' squad was senior Kelsey Hull, who won her heat and placed 7th overall. Closely behind Hull was junior Anna Stitzer, who placed 23rd, and sophomore Alexis Durn who placed 25th. Although runners Dani Fetterolf and Abby Stitzer did not medal, they eventually sealed the state title for the team due to their stellar places and times. Sophomore Ann Marie LaPean, sophomore Gracie Naviglia, and senior Lisa Beirline also raced in the state meet.
The winning of the 2020 A State Championship for the girls marks only the third state championship in school history, following the A Softball Championship in 2002 and the Boys Cross Country A Championship in 2017.
In addition to the girls' State Championship win, Penns Valley Boys Cross Country finished their season second in the state. The team was led by senior Colton Sands, the individual state champion, and senior Max Fiedler. Fellow team members who helped to seal the second-place finish included senior Thad Smith, sophomore Simon Smith, and senior Malachi DuVall.
The state meet marked the end of a stellar group of senior's high school careers. However, many athletes are set to make their mark at the college level. Many seniors are set to continue their cross country careers in college with Colton Sands committed to the University of North Carolina, Chapel Hill, Brendan Colwell committed to the Pennsylvania State University at University Park, and Kelsey Hull committed to Shippensburg University. Fellow runner Malachi DuVall is also set to compete at the United States Naval Academy, but rather than running cross country he will be a member of the wrestling team.
Amongst the uncertainty of 2020, Penns Valley Cross Country was able to capture not one, but two top-three state finishes.  This is just the beginning for one stellar group of athletes.