Pittsburgh Steelers are on a Losing Streak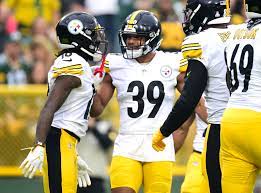 The Steelers faced another loss this past weekend. Ben Roethlisberger and the whole Steelers team started off the game strong with his first 4 passes leading them to a 45 yard field goal. The game went downhill from there for Big Ben and his team. Even with the Pittsburgh Steelers passing game obviously struggling, Roethlisberger threw his 400th touchdown in the NFL, but that wasn't enough to beat the Packers.  Regardless it can't go unnoticed that Roethlisberger lost yard on a fourth down and forced a turnover.  
Coach Mike Tomlin was asked about a possible quarterback change but dodged the question of benching Roethlisberger. Will Tomlin do something about the change that needs to be made on Sunday vs the Broncos? The Steelers don't have it easy either with the Denver Broncos on Sunday and the Seattle Seahawks the following week before they have a bye week. Tomlin and the Steelers will have to decide quickly if Big Ben can be trusted as the starting quarterback. The Steelers are 1-3 this season and should be looking to make changes to their losing season now. Roethlisberger and his team are now looking lucky that they came up on top in week 1 against the Buffalo Bills. The Steelers have a lot riding on this weekend's game, especially Big Ben. If he doesn't play his best game against the Denver Broncos he could be the new starting bench warmer against the Seattle Seahawks. With the Steelers averaging at 5.8 yards per pass attempt they better hope they can turn this season around.