Super Bowl or Super Burrow?
The Super Bowl 2022 is in action this Sunday at 6:30! This will be the final game of the 2022 NFL season and the annual playoff championship of the National Football League. The first Super Bowl was held on January 15, 1967 at the Los Angeles Memorial Coliseum where the Green Bay Packers took on the Kansas City Chiefs. There were around 62,000 fans that attended the game along with special guest Al Hirt who performed the halftime show. The game ended off with a 31-10 win for the Green Bay Packers.
This year's match up is between the Cincinnati Bengals and the Los Angeles Rams at the SoFi Stadium in Inglewood California. The Bengals have a record of 13-7 while the Rams are 15-5. The game will be held at 6:30pm and at halftime there will be a performance by Dr. Dre, Snoop Dogg, Eminem, Mary J. Blige, Kendrick Lamar, Sean Forbes and Warren Snipe. 
A face to look out for at the Super Bowl is Joe Burrow. He is the quarterback for the Bengals. Burrow was born on December 10, 1996 in Ames Iowa where he went to school at Athens High School. He led the school to three straight playoff appearances and the school's first seven playoff victories in school history. During his high school career, he passed for 11,416 yards with 157 passing touchdowns and rushed for 2,067 yards with 27 rushing touchdowns. He committed to Ohio State to play football on May 27, 2014 where he went to college from 2015 till 2017 and then switched to Louisiana State University from 2018 to 2019. Burrow had many great seasons in high school as some of his college statistics are shown in the chart below.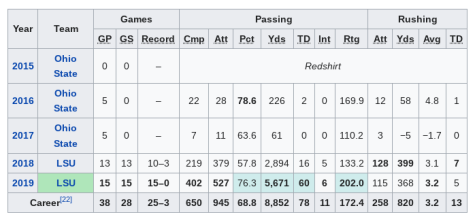 After college Burrow was one of 58 players invited to the 2020 NFL Draft, where he was selected first overall by the Cincinnati Bengals. He was the third consecutive Heisman-winning quarterback to be selected first overall, following Baker Mayfield and Kyler Murray. Burrow signed his four-year rookie contract, worth $36.1 million, on July 31, 2020. Ever since then he has been a force not to be reckoned with in the NFL. In the AFC Championship Game against the Kansas City Chiefs, Burrow threw for 250 yards, two touchdowns, an interception, and helped the Bengals overcome a 21-3 deficit to win 27–24 in overtime. With the victory, the Bengals now have reached Super Bowl LVI which is their first appearance since Super Bowl XXIII in 1988.