What is Thanksgiving?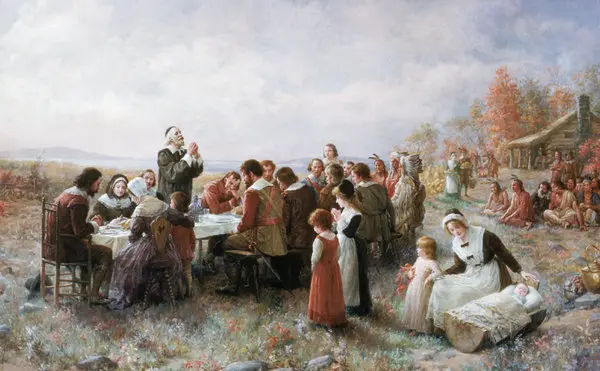 What is Thanksgiving and why do we celebrate it? Thanksgiving is a holiday that started way back in 1621 by pilgrims who came to Plymouth rock. It was celebrated by pilgrims and people of the Wampanoag tribe. The pilgrims left England on a boat called the Mayflower. They left in July of 1620 and turned back twice for a ship called the Speedwell which had a leak. They eventually left Speedwell behind and finally got odd to their journey on September 6, 1620.
After a long and terrible journey, they made it to Plymouth on November 11, 1620. Throughout the journey, many people got sick, and only one person actually died on the sea. After arriving at Plymouth, they sent searchers out looking for Indians to help them and suitable land for a living. Everyone else stayed on the ship waiting for the news. Once they had found a good area to live they started building houses. The first houses ended up being hospitals to nurse sick people.
That winter 45 of the 102 people on the ship had passed away from sickness. This didn't stop them from moving forward. The first Indian encounter happened on December 8, 1620. They kept building houses which kept everyone safe until spring came. Later in the spring more Indians who could speak better English arrived and met the pilgrims and taught them things. This led to the first meal together which they called Thanksgiving.
Thanksgiving officially became a holiday on Thursday, November 26, 1789, by George Washington. It has been celebrated with turkey and mashed potatoes and all of the other good foods ever since.