The JH PV Cheer Season Has Come To An End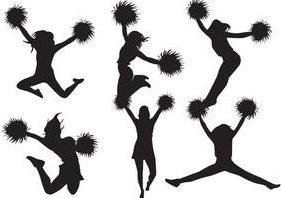 The season has finally come to an end, and we are ready for the next. Cheer has been a great experience, and I have a special bond with the cheerleaders. We learned that you have to do things as a team, and it's better to do it as a team rather than alone. You have to have trust and bonds with others to be happy. Every day is a learning experience for multiple people. It hurts to know that some people will be on different squads next year, and we will have to build new bonds with others. 
We didn't only cheer and dance, we did lots of things, from doing pep rallies to helping set up the dances. The JH cheerleaders are Kennedy Harper, Lilly Wray, Alexa Cowher, Raynee Davis, Katie Warriner, and Serenity Thull. I asked a few cheerleaders what their favorite part of cheer was. Serenity Thull said, "  I like stunting and tumbling because it makes me feel relaxed". Kennedy Harpers' favorite part was getting to spend time with her friends and getting to know them more.
March 18 was the PV cheer banquet, and everyone got an award. We also got a gift. The gift had a custom water bottle that said each girl's name on it. It is navy blue with tons of glitter. It also had a sparkly silver bow that also had glitter on it. Each girl got a cheer survival baggy that had all the necessities that we need in it. We got to share our last moments together. Overall, cheer has had a big impact on our lives. We learned a lot together. For more information on how cheer helps us bond, click here ->https://www.varsity.com/news/being-a-cheerleader-team-building/