California is flooding and on fire.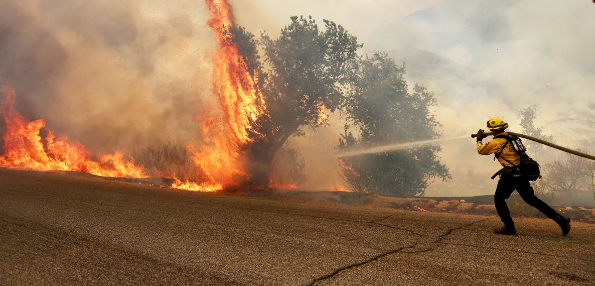 On september 12th, heavy rain drenched Southern California. Mudslides hit the area, causing damage, and accidents on the roadway. A total of 24 vehicles became trapped on Pine Canyon Rd. in the Lake Hughes Area. The heavy rainfall came from tropical storm Kay that hit Friday and made officials order a flash flood warning up until Sunday morning. It was reported that the San Diego area received an average of 4 inches of rain. 
However, the storm did help firefighters battle the Fairview Fire in Hemet, CA. As of Sept. 13, the fire has destroyed 28,000 acres of land, and claimed two lives. On the 13th, firefighters had the fire contained 60% which tropical storm Kay helped them achieve. Marco Rodriguez, a public information officer with the Los Angeles County Fire Department, said. "In the last six hours, we went from dry, heavy brush to damp and super wet conditions."
The reason the storm had such an impact is that California had been going through a drought. The ground became hard and brittle. When the heavy rain came the ground could not absorb enough of it and the rest becasem run-off and caused those mudslides. California has been experiencing increasing droughts and fires for the past few years now. 
This dangerous weather pattern is caused by climate change. Over 85% of California's population live or work in coastal regions. The ocean water level has raised 8 inches in the past century and it will only continue. Scientists project it to raise another 25-55 inches by the next century. Over half a million people could be at risk of flooding in 2100. 
It is not only California though the whole country will feel the effects, even here in Penns Valey, just not as hard. California is in for a wild ride in the next century. It is the only state that is flooding, and on fire right now. Unfortunately it will only get worse from here on.