The Fight for the Golden Farley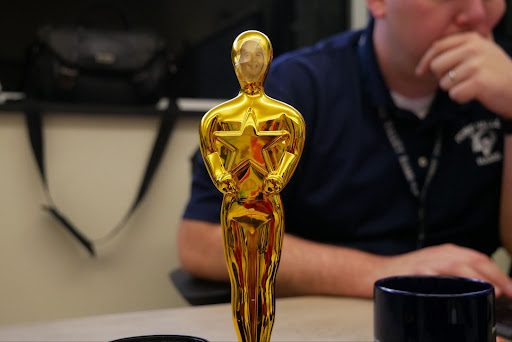 It is time once again. Mr. Farley is hosting the sixth Penns Valley Documentary Film Festival for his media class. Every single student in the class has filmed, written, and edited their own documentaries over the past month. Now, those documentaries are ready to be watched.
"It is an event I look forward to every year," says Mr. Farley, "and I am always impressed with the amount of work and variety that comes from the festival. It is a fun time to celebrate the work that the media class does."
This year's film festival is one of the largest. The rules, however, remain the same. Every documentary will be watched and rated based on several categories. The documentaries will be watched in class in the auditorium. Anybody interviewed in the documentaries is welcome to come watch them if they are able to. The films will receive awards depending on the ratings. These awards include Best Editing, Outstanding Interviewer, Best Cinematography, and the illustrious Golden Farley. The Golden Farley is given out to the best film of them all and is a highly sought-after item. It is based on The Oscars but with a golden Mr. Farley face plastered on it. The votes will be cast by the students in the class, but Mr. Farley has the final judgment. 
Although the documentaries will be viewed in class, some articles about them are available on pvmedia.org. Below is the pamphlet for the festival and links to all the currently available articles related to the documentaries. Feel free to read anything that interests you.
The Evolution of Super Mario 64 Romhacking – Logan Conrad
Creating a Football Documentary – George Dawson
Documenting a Documentary – Aiden Korman