The Area 51 Raid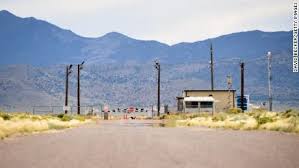 To what started off to be just a big meme, the joke about raiding area 51 blew up the internet. Area 51 a United States air force base, or that's what the government tells us. People have their beliefs that at this air force base there is a possibility to be aliens or other things that didn't come from this planet. These theories about area 51 have been going on for years now, but finally someone made a meme about getting a big group of people and raiding area 51 to find out what is inside. So the meme began.
The meme blew up on Reddit, which led to many different people making many different memes. These memes blew up on almost every social media platform, such as Instagram, Twitter, Facebook, and so many more. As the meme got more popular people started to take it more seriously making different polls to see if people would actually go to the raid. Facebook as well as Twitter provided a sign up page where people could sign up to participate in the raid on September 20th. As the sign up got more and more popular the number of people that signed up was insanely large. Millions and millions of people filled out their form and got their spot set for the raid.
Today is the day of the raid, September 20th, 2019. Although millions of people signed up to participate in the raid only around 1,500 people showed up. The military police at area 51 got involved right away as they heard of the raid. These officers threaten to shoot anyone and everyone who tried to get too close to the base. As people heard the news of what the officers said about the violence they aren't afraid to use, they bailed on the whole raiding thing. Hotels all around Nevada are completely sold out, so even though officers aren't afraid to shoot people these people really want to know what is inside this base.