Among Us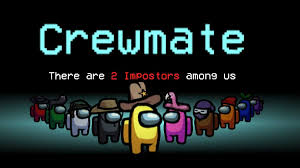 Among Us, published by the American game studio InnerSloth and released on June 15, 2018. The game takes place in a space-themed setting where players each take on one of two roles, most being crewmates, and a set number between 1-3 being Impostors. The crewmates are the players that complete the tasks like connecting wires, dumping trash, and shooting asteroids to win the game. They also can vote to try to kick out the imposter before they kill everyone. The imposters' job is to kill all the crewmates before they finish their tasks and not get caught in doing so.
The game came out in 2018 and was widely unknown until early to mid-2020. The game began to skyrocket when Twitch streamers and YouTubers caught on. The game is free on mobile and only five dollars on PC. This makes it easy for anyone to play if they have a phone. As for those on PC, the cost is so low that most people can afford to buy it if they want. The game has just passed a total of 86 million players with help from many popular streamers and YouTubers. Twitch streams would include Pokimane, XQC, Ninja, CouRageJD, and NICKMERCS to name a few. Some YouTubers would be PewDiePie, Dream, Boyinaband, and JackSepticEye. Together all these people and more helped make this game popular.
Now millions across the world play the game and it's expected to only grow as the game is still being updated. It's definitely a game that won't be going away anytime soon and its really fun to play with friends.