Gamestop Stocks Rising?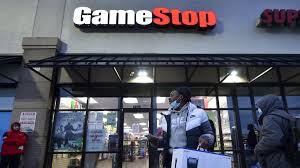 GameStop is a gaming equipment store located all across the United States of America. Recently GameStop has been "falling off" so to speak, until a bunch of investors outsmarted the stock market with a new method to make themselves some money. GameStop's stock price has risen by a lot in the recent dates.
The stock prices started below 20 a few days ago and are already topping the four and five hundreds. GameStop has been a hot target in the WallStreetBets Reddit chat room where lots of at-home retail investors came together, pushing shares higher and getting out short-selling hedge funds. This basically means that they purposely got together and bought shares to make the price go up and made each other money by doing so.
The forum, which now has more than four million members, shortly went private Wednesday night as the moderators said they were "unable to ensure Reddit's content policy." Some of the Reddit users have been sharing screenshots of their accounts, showing large returns from trading in GameStop and other names. With all of this occurring experts are telling the people of reddit to sell before the "music stops" meaning to sell the GameStop stock before it goes back down so they at least get what they can from the investment takeover.
The future is unsure for the stock market. With the pandemic hitting and bringing the stock market down, and now with investors out smarting the system, anything can happen with the United States nowadays.