Huntington Beach And All It Has To Offer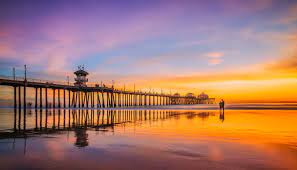 Huntington Beach is located South of Los Angeles California. While being very close to Los Angeles there are many exciting things to do while you're out there. 
One thing you can do is rent a wetsuit and a surfboard for the day and surf. You can also walk on the pier that is out there and watch all of the surfers. There are also many places where you can rent a fishing rod and fish off the pier as well, you do not need a fishing license to fish off the pier. 
If you are into art and other things like that you can visit the Huntington Beach Art Museum. Many of these things are at little to no cost. 
Unless you decide to go shopping at the many stores around the Huntington Beach area. From farmer's markets to clothing stores and surf shops Huntington Beach has it all. 
You can also go down to the Wetlands and Wildlife Care and Education Center, there are many things for all kinds of people. While on the topic of animals, Huntington Beach also has an off-leash dog beach where you can let your dog run free. Or you can go down just to see all of the dogs and have a good time!
This city also has many amazing restorations, many of them being dog friendly in fact. You have many options when it comes to food down there. You can get some Mexican food, or as well as Chinese food. These are just some of the cultural foods Huntington has to offer. If you are looking for something more on the fast-food side there are many fast food places that are west coast exclusive. Such as in and out or jack in the box and many other places. 
As you can see there are many amazing places and things to do if you are down and visiting Huntington Beach. This place is truly a great place to visit from food and activities to just the environment you're in!