Glacier National Park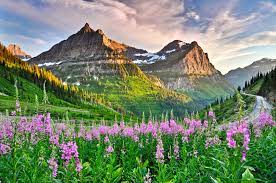 One of the most incredible places to visit in the United States is Glacier National Park. The park is located on the  Montana-Canada border and spans 1,584 square miles. The park has many sights to see. From tall reaching mountains to deep valleys, the beauty of the park is magnificent.
One of the greatest attractions is the "Going-to-the-Sun Road" which is one of the most beautiful roads you can drive in the entirety of the United States. Make sure to go during summer because, in winter, the road is closed. However, Glacier National Park is not only beautiful in the summer months but also in the winter months, if you can handle the cold that is. Montana snow can reach up to 32 inches and the temperatures can drop into the negatives. Glacier is a common destination for cross country skiers looking for some beautiful sights. Another reason people visit the park is hiking.
While hiking can be incredibly dangerous due to the sparsity of humans and the wild grizzly bears, the sights are absolutely gorgeous. Fishermen also come from all around to fish in the park's pristine rivers and lakes. There is no license required in order to fish in the park. Many species of trout are native to the waters. Ice fishing is even available in the winter. Glacier has 13 campgrounds throughout the park and one large lodge is known as Many Glacier Hotel as well as a chalet. However, no one will stop you from camping out on a trail. Just make sure to bring bear spray! Glacier National Park is an excellent destination for anyone who loves the outdoors and definitely should be on your list of places to visit.