Hurry to Hershey: History of Hershey
Hershey Park is a family fun theme park located at 100 Hershey Park Drive, Hershey, PA 17033. The park first opened on Memorial Day in 1906 with just an open ground along with some waterways for boating and canoeing. There was also a bandstand and pavilion on the property that were used as a stage for different theater productions. The park has always been an attraction to the public but has slowly grown overtime with lots of expansion and things added to the park.
A merry-go-round was added to the park on July 4,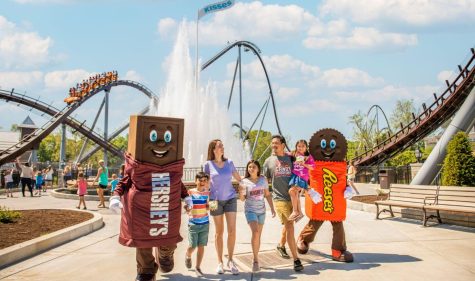 1908. This was just the start for Hershey's Parks expansion. When 1909 hit the park had a tennis court and two bowling alleys added, along with the completion of the Scenic Railroad. The railroad was something relaxing to have at the park and attracted more adults. Overtime there was a $15,000 carousel built and named the "the great flying horse" by William H. Dentzel of Philadelphia, or also known as the Wild Cat.
The community of Hershey celebrated its 20th anniversary in 1923 where Mr. Hershey presented The Wild Cat, a new roller coaster. The Roaring Twenties brought even more new rides to Hershey Park including a small Ferris wheel, the Aeroplane Swing and the Skooter. Each season brought more attractions to Hershey Park. By 1945 there were more than two dozen amusement rides and  devices. The original carousel was replaced by the one that is still in use today. In 1946, The Wild Cat roller coaster was replaced by The Comet, which is still a family favorite today.
Hersheypark currently has 76 rides and water attractions. There are a total of 15 rollercoasters that range in thrills to accommodate anyone in the family. Skyrush is known as the "scariest roller coaster at Hershey" as it climbs 200 feet into the air before flying downhill at 75 mph. There are 4 high speed turns and 5 zero-G airtime hills. Come to Hershey and get to try it for yourself!