Penns Valley Chess Club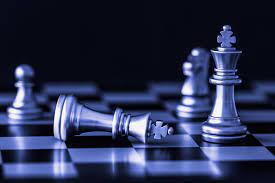 For the first time, this school year there will be an official Chess Club organized by Mr. Robson and Mr. Long. It will be open to senior high students from grades 9-12. Chess is an old and popular game, played by millions of people. Chess is played on physical boards or online, on websites such as chess.com which makes it possible to play at any time. During club meetings, lessons will be given to members. They will learn about basic chess principles and strategies to take their game to the next level. Games and competitions will take place so that everyone can get more playing experience.
However, this club is not entirely new. During the 2021-2022 school year chess was already taking place in Mr. Robson's room. Students in Mr. Robson's RAM time were allowed to play chess, under the condition that they had completed all of their homework and had no other schoolwork to do. These students were able to play and improve their game. Now, there is an official club.
Students who enjoy chess or are interested in joining this new Chess Club can contact Mr. Robson or Mr. Long. From there they will be able to join and participate in the club. Chess Club will be meeting during activity periods on Fridays. Club meetings will be held in Mr. Robson's room, room 409. Chess boards will be provided. There will be plenty of chess boards for everyone to ensure that people are not sitting around and can play as much as they want.