Roller Coaster Stolen From The Union County Fairgrounds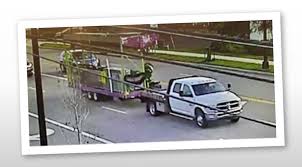 The police from Union County is in the search of finding the stolen rollercoaster from the Union County Fairgrounds in Marysville. The rollercoaster that was stolen last weak was none other than the Go-Gator.  
A traffic camera has got a photo of a truck hauling it away on August 29th according to the news release posted to the Union County Sheriff's Office Facebook page, but the image was not clear enough to see the driver or anything inside the truck. The rollercoaster itself fits on a trailer and is part of a traveling carnival." 
The roller coaster was on a purple and green trailer and has alligator-designed train cars which are about 20 feet total in length," this sentence was written by the KTLA 5 news station. Someone connected their pickup truck to the trailer and drove off with the ride. The pickup truck was a Dodge Ram 2500 (or larger) model with a flatbed.
The Union County police are asking that if you see the ride or you know someone who has please contact them it would be a big help, and the authorities also ask not to confront the person who stole the ride. The sheriff's office also has given out the information that the license plate number is, 22-1246A and it's registered to Maine. "It was a very risky move," said Amanda Kenney, Evening Anchor at WTAJ news.  Hopefully, the ride will be returned to the rightful owner before the ride is needed at another carnival.