Penns Valley Senior Night
For the Penns Valley football game, senior night is coming up on October 25, 2019. That is when all football and marching band seniors get announced over the loud speaker before pregame. Senior night usually happens on the last Home game of the season and usually it gets celebrated. Whenever the Penns Valley Marching Rams have the senior night, we usually bring food and we have a party and congratulate the seniors by forming a tunnel for the seniors to run through. We also use balloons during the party and make it a surprise for all the seniors by them running through the tunnel into the band room. That is when they see the balloons all over the band room and it's decorated with cool decorations. Then, we usually listen to the show music during when we have our senior night party. After the party, we get into our marching band uniforms and march up to the field as the drum line plays the Kaydence. After we march up to the field, the marching band seniors along with the football players get called up to the field to get announced with their families. That is usually at 6:30 pm before the football game. After all the seniors get announced, we then march on the field for the pregame to support Penns Valley.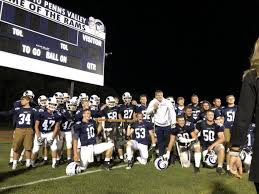 Our football players are all in the line for when they had been able to secure the bell once again. All of the seniors were cheering really loudly after that had happened.
So this is what we have been doing on senior night. We had a party for the senior marching rams and then they all get announced along with the football players. Come to the final football game to support our seniors and the football team for the last Home game on October 25th!! Its a great day to be a ram!!