Is Our School Good Or Bad?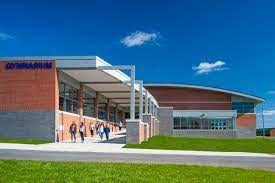 Is our school good, or bad? What defines a school being good? The rules? The Teachers? The administration? Well according to Washingtonpost.com "A good principal, active parents, good teachers, and a well-stocked and well-used library." I also interviewed a fellow student, Connor Kelly about his thoughts about this school and you will see what he thinks throughout this article. But anyway lets start with principals, before Mr. Wynkoop we had Mr. Dalton. Both of them in my opinion are doing a great job which is a plus for our school.
Next, I know we have active parents even though we are a small school which is really awesome.
Then we have teachers. I asked Connor what he liked most about this school and he said "sports, people, and teachers." I am going to have to agree with Connor here and have to say that I love all of our teachers here. He also said sports.
Now good sports isn't required for our school to be a good school, but for a small school like us, we are doing quite well. Football did above average this year, boys and girls basketball did good too. Wrestling is doing great as well having some of them making it to states. Academic decathlon being very consistent in being really good. Now I could go on and on about all of the sports teams, but I would run out of room.
Let's talk about the school building itself. Having a really good new library where I'm actually writing this right now. A brand new gym that is the best gym in the district. A giant auditorium. And overall just the school has a nice atmosphere. I also asked Connor to rate the school 1-10 and he gave it an 8 which is a reasonable number. Because this school does have problems like the no backpacks rule not always listening to the students. But every school has problems, no matter what. Overall, I would say our school is a good school.