Journey to the 6th Consecutive Moutain League title for the Girls Cross Country team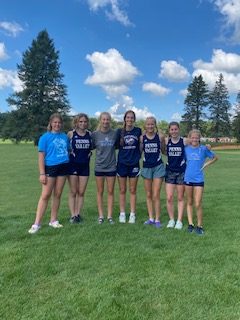 The Lady Rams Cross Country team is out to win their 6th consecutive Mountain League title. The girls who are on this mission are Alexis Durn, Ann-Marie McMurtrie, Ayva Fetterolf, Annie Racette, Lillyanna Smith, and Zoah Steiger. So far they have run in 3 meets! 
First meet was the BVI invitational in Lewistown. These ladies competed against multiple schools, including bigger schools than Penns Valley. The ladies took 2nd as a team in the single A division. 3 of the lady rams medaled, Lily smith who took 2nd, Alexis durn coming right behind her in 3rd, and Ayva Fetterolf in 9th. These ladies ran fast and hard against some good competition. 
Spiked Shoe invitational was the second race for these ladies at PSU golf course. Only 6 girls competed in this race as one had to sit out for injury. Alexis Durn had a few things to say about this race, " I would say it went well with our team as Ayva, Zoah, and Annie had really good times. Also, very encouraging as my last time there to get a course pr and be a couple places off a medal. Unfortunately Lilly's IT band started to hurt and hopefully she will get better quickly and become even faster as the year goes on! Overall it was a productive invite with increasing our chances of going to states as a team and to see what our lineup is with teams in our district ". Unfortunately there were no medalists for this meet but that didn't matter because the team had many personal records and course personal records broken. Alexis durn took 14th overall and ran her fast course PR. Ayva Fetterolf did an outstanding job and got a new personal record. Also Zoah Steiger broke her personal record by almost a minute. 
The last race these ladies ran was at PO. This was the first race to actually count towards the mountain league. The girls knew they needed to run for place to start their journey for the mountain league title. It was nice weather and the Lady Rams took the win over PO. Alexis Durn took 1st with Lillyanna Smith taking 2nd. Ayva Fetterolf took 5th and Ann-Marie McMurtrie took 6th after a close call with another PO girl. Zoah Steiger was right behind Ann-Maire and got 8th. 
Next Tuesday the girls will be running at their home course to take on Hollidaysburg and Bellefonte. The following week on September 27th is Senior night for Ann-Maire McMurtrie and Alexis Durn.